South Mid West Region
The SMW Region of SMART covers the states of Texas and Oklahoma, with two Chapters in Texas, (Alamo SMARTS and the SMART Texans) and one in Oklahoma (OK SMARTS).
All chapters are very active with regular musters, and luncheon get- togethers in the off season. All chapters support local and military service projects. Musters are held in different parks with dinner outings and exploring and sight-seeing around the local area. Musters always include free time for visiting, exploring on your own, and playing games.
Things to see in the Region: Both states have several nice lakes and recreation areas. There also are the Oklahoma City National Memorial, Oklahoma City River Walk, National Cowboy and Western Heritage Museum, Historic Route 66, and many wonderful parks in Oklahoma. Texas has many attractions including Fort Chadbourne at Bronte, The Alamo in San Antonio, the San Antonio River Walk, The Texas Ranger Museum and Hall of Fame in Waco, Palo Duro Canyon in NW Texas, Padre Island National Seashore, and the Big Bend area.
Visitors are always welcome at our chapter and regional musters.
---
South Mid West Regional Muster
Our next Muster begins on May 3, 2018 in Durant, OK. Please click here for dates/contact info.
---
Chapter Quick Links
---
Region Staff
---
Chapter Information
Alamo SMARTs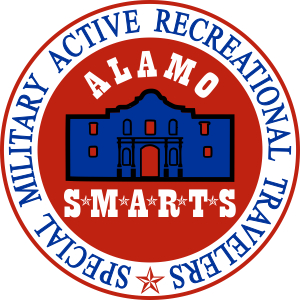 Our chapter holds 4-6 musters annually, including the Regional and National musters We normally begin on a Thursday, ending on Sunday, but this can vary depending on the location and planned activities and generally gather within 150 miles of home base, San Antonio, TX.
Our muster meals are a combination of potluck, host-cooked, catered or occasionally meeting at a local eatery. Regardless, no one goes hungry! Evenings begin with "attitude adjustment" and at least once during the muster we sell 50/50 tickets. There are three winners of the "pot" who divide 50% of the sales and the remaining 50% goes to our charity project "Veterans Helping Veterans."
The chapter was chartered in 1996 and since that beginning we have supported several veteran-oriented activities including the Audie Murphy VA Hospital in San Antonio and the VA hospital in Kerrville, TX. Other entities include the Fisher House and Warrior and Family Support Center, both on the campus of Brooke Army Medical Center at Ft Sam Houston. We are currently supporting Patriot Paws which provides service dogs for veterans. Collectively over the years, our members have contributed nearly $20,000 to various veterans groups, truly supporting Veterans Helping Veterans.
You'll find a great bunch of folks in the Alamo Chapter so find our muster schedule on the website and stop in and visit next time you're close to where we're camping. Safe travels and we'll see you down the road!
Click here
for more information.
Contacts
---
OK SMARTs
The Oklahoma SMARTS Chapter consists of members of SMART residing in the State of Oklahoma and any other state that would like to be a part of our fun-loving chapter. (The latter may occasionally be called Okie Wannabes!) Chapter dues are $10.00 per couple per year.
There are usually at least 4 musters each year consisting of a dinner muster at Chickasha, OK each January; and camping musters normally within Oklahoma, but we have been known to venture out to nearby states. In addition to these musters, we volunteer at our "adopted" cavalry fort, Fort Chadbourne, near Abilene at any time as they may need us.
Our camping musters are usually 3 to 6 days and are arranged so that participants can arrive and leave any day during the muster. This enables those members who are still employed to participate in some musters on weekends. Those who are retired can participate and take advantage of the entire muster.
Fort Chadbourne is a project undertaken by members several years ago to assist in the privately owned fort in its restoration. There have been many useful projects in the furtherance of its efforts to provide documentation of the fort's past and an enhanced monument for the future. They currently are offering guided tours for school classes and of course can use our members to help with the tours and work in their marvelous Visitor's Center. Who better to reconstruct our nation's military history than active and retired military? Any time you wish to volunteer at the Fort, contact Roger Meyer, our liaison, at (580) 481-9695, and he will make the arrangements. Visit the Fort Chadbourne web site at www.fortchadbourne.org.
All who are interested in becoming a member are invited to join us at one of our musters. Check out the Musters & Events schedule and come visit. For further information about us please contact any OK SMARTs member.
Click here
for more information.
Contacts
---
Texans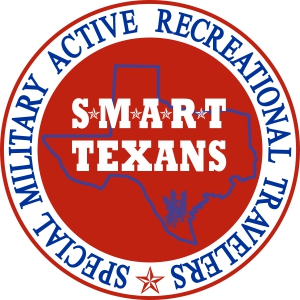 The SMART Texan chapter is the oldest chapter in the state, and is focused primarily in Central and East Texas. We hold musters primarily in our area, but may sometimes venture elsewhere depending on member interests. We normally have 5-6 musters a year, including the SMW Regional and the SMART National Muster.
Our chapter musters normally have 10 to 12 rigs present with the agenda centered around fun and great fellowship. We play games, have seminars, eat too much, and visit the local area around the muster. All are welcome, but particularly if you live in Central or East Texas, or you will be visiting in the area, we invite you to check us out!
Click here
for more information.
Contacts
---